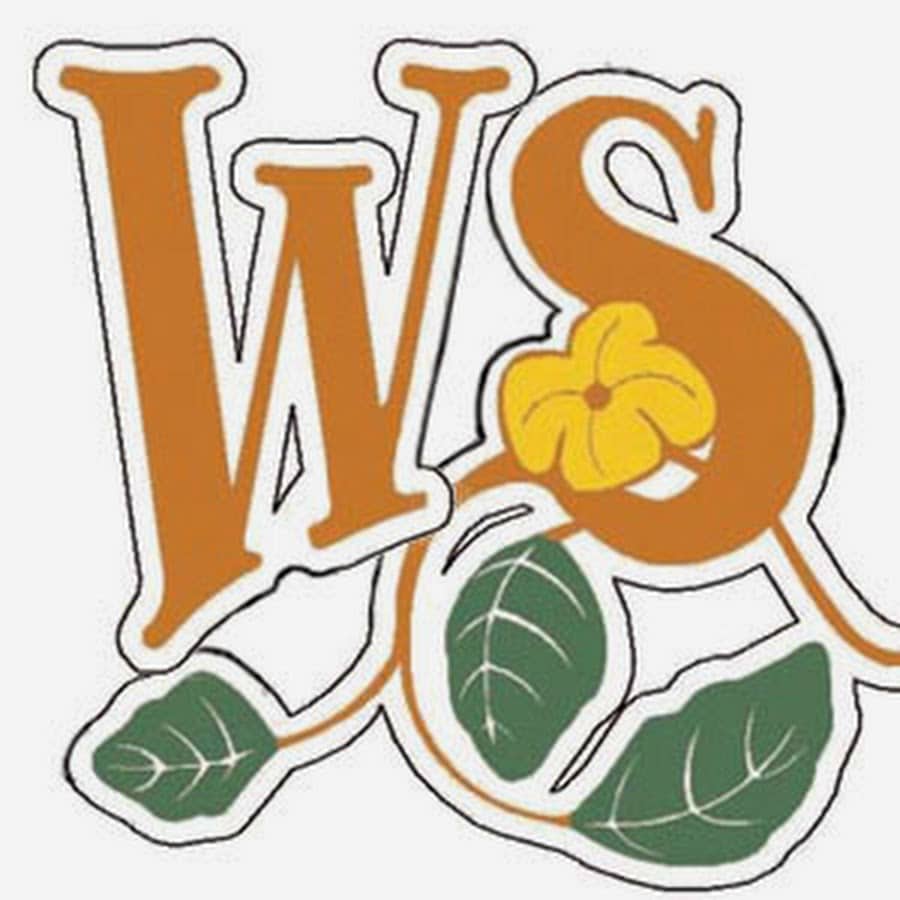 DOWNLOAD NOW! The WoodSongs APP for Android is free to download until May 1 … check the show schedule, make reservations, watch the archives, become a WS Partner all on your cell phone! Watch for the FREE WoodSongs iPhone APP, coming soon

_
_
SPECIAL WFPA/SONGFARMERS MEMBERSHIP OFFER
Any new or renewing members who join the WFPA by April 10 2017 (this is different from a WoodSongs Partnership) will be supporting our global education initiative PLUS get 5 FREE tickets to the 2017 GATHERING Festival and Music Conference PLUS get a FREE copy of the 176 page WOODSONGS III Book and CD Gift Set. Call 859-255-5700, email a PayPay payment to radio@woodsongs.com or use this easy credit card button below. Use the PayPal button below for easy WFPA membership, 5 tickets to the 2017 WoodSongs GATHERING and get your FREE copy of the WoodSongs III Book and 12-song CD Gift Set … all for just a $25 membership

Review the WSIII Book and CD here: MichaelJohnathon.com/woodsongsiii
DOWNLOAD the PDF one page offer HERE
Become a "SongFarmer" and change the way you view the world of music … info at SongFarmers.org _
Use this PayPal button below for easy membership and get your FREE copy of WoodSongs III
Coming Monday April 3, 2017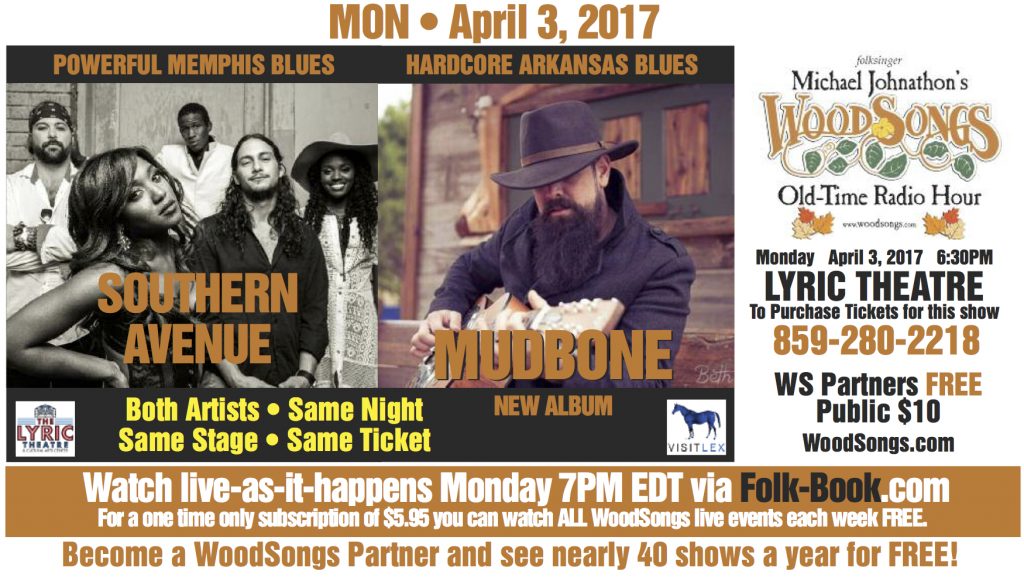 April 3, 2017
General Public: $10  WS Partners: FREE … Lyric Theatre 300 E Third, Lexington, KY  To Make a Reservation Call 859-252-8888 or email: office@woodsongs.com  You can SECURE TICKETS EARLY from the Lyric Box office call 859-280-2218
_
SOUTHERN AVENUE takes its name from a Memphis street that runs from the eastern-most part of the city limits all the way to Soulsville (the original home of Stax Records). It's a fitting moniker for this diverse four-piece: two powerhouse sisters whose musical education came from the church (Tierinii and Tikyra Jackson), a jazz bassist (Daniel McKee) and an Israeli-born guitar virtuoso who grew up a student of the blues and funk (Ori Naftaly). The band reached the finals at the 32nd International Blues Challenge, Naftaly and his bandmates knew they'll be labeled "a blues band." And they love the blues – but Naftaly says Southern Avenue is much more as evident from their debut album 'Don't Give Up' on Stax Records
_
 _
MUDBONE tells the story of American music one song at a time. His performances reach a broad audience by taking them on a journey from the late 19th century when bluegrass met the blues, through the country, soul, funk, and rock & roll of the 20th century. He was born near the Black River in Northeast Arkansas. That river is the dividing line between the Mississippi River Delta and the foothills of the Ozark Mountains. Combining his abilities as a guitarist with fiery vocals, Mudbone has developed a signature sound that appeals to a wide demographic while remaining uniquely his own.  His latest release 'Rivers', part 1 of the 2 disc set Rivers and Roads, is a reflection of old world delta blues, bluegrass and gospel music flowing together in the river they all come from.  http://www.mudbonemusic.net/
_
Coming Monday April 10, 2017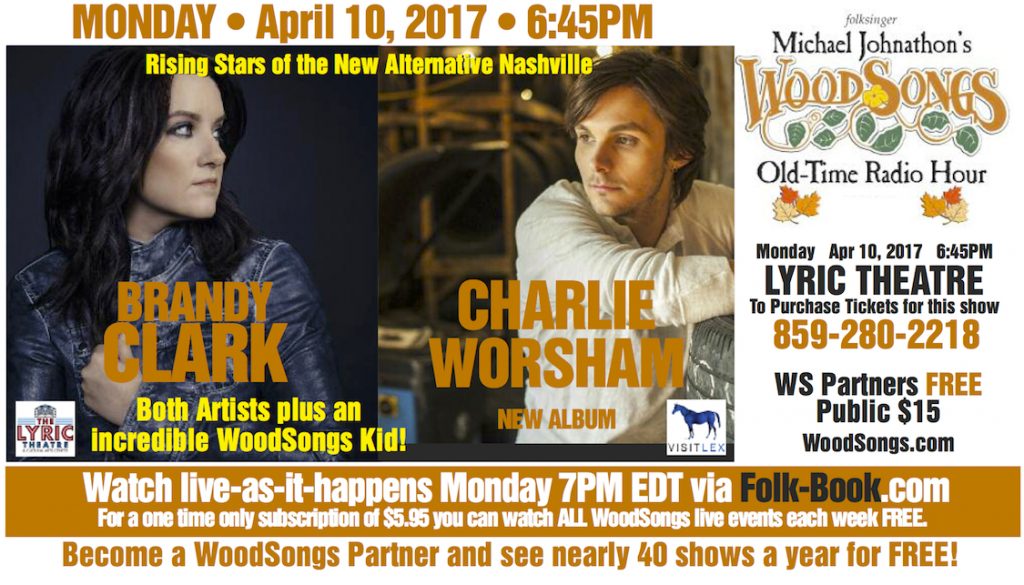 April 10, 2017 General Public: $15  WS Partners: FREE … Lyric Theatre 300 E Third, Lexington, KY  To Make a Reservation Call 859-252-8888 or email: office@woodsongs.com  You can SECURE TICKETS EARLY from the Lyric Box office call 859-280-2218_
_
BRANDY CLARK is part of a new vanguard in country music — one that tips a hat to tradition, while not eschewing its evolution. For Clark, the dream she harbored in her small hometown of Morton, Washington, was to be a country singer. Sure, once she moved to Nashville, she had successful cuts as a songwriter [The Band Perry's "Better Dig Two," Miranda Lambert's "Mama's Broken Heart," and Kacey Musgraves' "Follow Your Arrow" which won the CMA Song of the Year Award in 2014], but being an artist in her own right was a dream she had stopped dreaming until three years ago when her first album, the stunning '12 Stories', debuted and went on to become a GRAMMY- and CMA-nominated release that topped a myriad of "Best Albums of 2013." 'Big Day in a Small Town' is the new album from this critically acclaimed songwriter and four-time GRAMMY nominee.  http://www.brandyclarkmusic.com/
_
CHARLIE WORSHAM is widely acclaimed within the Nashville community and is set for a breakthrough year with the release of his highly anticipated sophomore album, 'Beginning of Things'. Worsham is a ridiculously talented multi-instrumentalist and student of great songs. He's developed a unique modern country sound built around the traditional acoustic instruments he grew up on. From the Opry at age twelve to the local Missionary Baptist Church to the back-road blues joints he wasn't even supposed to know about, much less play in, wherever he found a stage, he played. For the last two years, he's divided his time between writing songs, being an in-demand studio musician for other artists and playing his music live — sharing stages across the country with Taylor Swift, Miranda Lambert and others.   http://www.charlieworsham.com
_
_
Coming Monday April 17, 2017     MegaBLUES Night!


April 17, 2017 General Public: $10  WS Partners: FREE … Lyric Theatre 300 E Third, Lexington, KY  To Make a Reservation Call 859-252-8888 or email your reservations to: office@woodsongs.com  You can SECURE TICKETS EARLY from the Lyric Box office call 859-280-2218_
_
VICTOR WAINWRIGHT AND THE WILDROOTS features the high-octane boogie piano and big soul sounds of vocalist and blues man Victor Wainwright, backed by one of the tightest smokin' bands on the scene. Victor's star is definitely on the rise, having won the coveted BB KING Entertainer of the Year in 2016 at Blues Music Award as well as "Pinetop Perkins Piano Player of the Year" in both 2013 and 2014. With the release of 'Boom Town', the band's latest record, they're poised to ignite blues/roots fans with a sound that's infectious and impossible to ignore.  http://www.vwwroots.com/
_
is an amazing Native American finger picking guitar stylist based in Colorado. Described as "one of the best acoustic pickers on the scene today," Morin brings together the great musical traditions of America and beyond like no other. With deft fingerstyle guitar and vocals that alternately convey melodic elation and gritty world-weariness, Morin crafts an inimitable style often characterized as acoustic Native Americana with qualities of blues, bluegrass, jazz, jam, reggae, and dance. New CD titled 'Cradle to the Grave' is the latest acoustic blues/roots/folk masterpiece. https://www.carymorin.com/
_
_
Welcome To The All-Volunteer Run WoodSongs Old-Time Radio Hour.
We believe that love is the greatest transaction of the arts, that the heart is more important than some chart, and that passion transcends payment every time. Our show airs on over 500 radio stations, American Forces Radio network worldwide and in millions of homes on PBS stations across America. You can watch our live show taping every Monday night on
Folk-Book.com
"You don't have to be famous … you just have to be good!"
folksinger Michael Johnathon – michael@woodsongs.com