WoodSongs Renews National Time Slot on the RFD-TV Network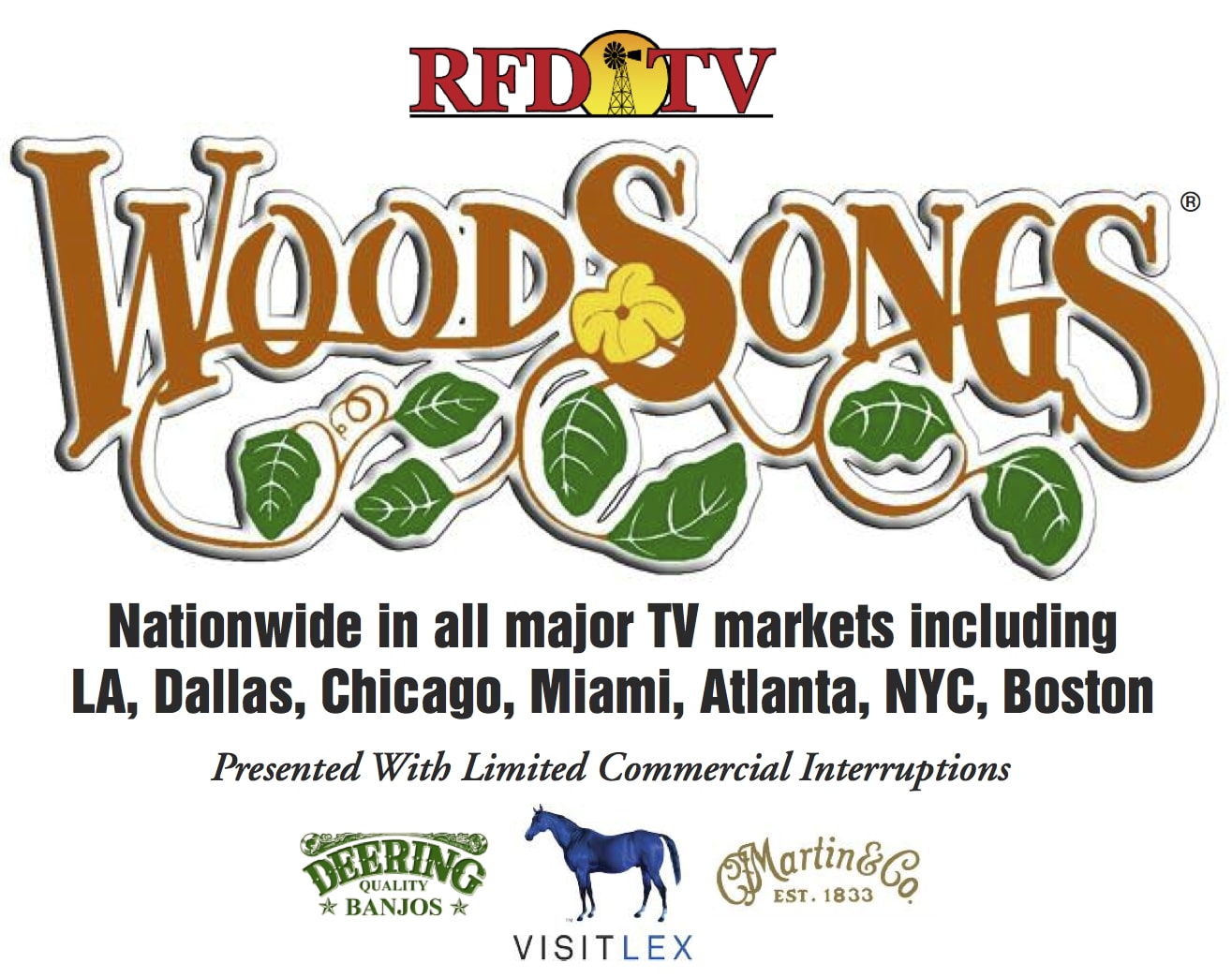 Michael Johnathon is a folksinger.
He travels America with his Martin guitar and Vega long-neck banjo performing to audiences across the country and bringing his message of music and community. He has spent the past 15 years building a massive, multi-media front porch celebrating the roots and acoustic music he loves.  Johnathon's show, the WoodSongs Old-Time Radio Hour, is a global front porch, a radio broadcast filmed for television, where the community of musicians and music lovers gather to celebrate the traditional American experience through song.
"Once upon a time, the front porch was the grand pulpit of America," says Johnathon from the front porch of his log cabin home in Kentucky. "It is where families and neighbors gathered, where the sun set each day with community and song. I wanted WoodSongs to re-create that wonderful legacy of that time. We need it, especially now. Heck, they don't
even build front porches on new homes anymore."
As a public radio show (515 stations) and a public TV series (96M USA TV homes from Los Angeles to Vermont) as well as being heard in 173 countries through American Armed Forces Radio, WoodSongs is already one of the biggest roots music broadcasts in the world. That global front porch has growing even larger since WoodSongs began airing each week on RFD-TV.
"I've always believed the grassroots audience is bigger than country and rock combined," Johnathon says. "So I went about to prove it. Artists need to be aggressive these days, you can't just think outside the box, you have to destroy the box and create a new one. I don't want to sound all 'banjo-y,' but you have to have a plan if you're going to build a front porch this big."
_
WoodSongs comes to RFD-TV
The WoodSongs Old Time Radio Hour, modeled after great shows of the past like the Grand Ole Opry, Lousiana Hayride, Rainbow Quest and others,  has consistently offered an eclectic array of popular artists from genres of folk, blues, country, jazz, new-age, rock, and more for an appreciative audience that assembles each and every Monday at Lexington, Kentucky's beautiful, historic 500 seat Lyric Theatre.
"Kentucky has one of the most important musical legacies in America," says Kristen Branscum, Commissioner of Kentucky Tourism. "Just look at all the artists from here that fit the image and spirit of WoodSongs: Bill Monroe, Loretta Lynn, Ricky Skaggs and so many others. From the hollers of Appalachia to the mountains of western Kentucky, this music
mirrors the American spirit."
Mary Quinn Ramer, President of Lexington's tourism office agrees.
"WoodSongs is celebrating not just the music of Kentucky, but the people and artists who make it. Lexington has been home to Jerry Douglass, Bela Fleck, JD Crowe and so many others. Like Michael describes us in the show, Lexington is the crossroads of America's folks and bluegrass music, and we couldn't be more excited that RFD-TV is showing this spirit nationwide."
_
All-volunteer run Broadcast
In the spirit of that front porch passion, WoodSongs is all-volunteer run and filmed in front of a live audience, a one-hour musical conversation focusing on the artists and their music.
"You don't have to be famous, you just have to be good," Johnathon said. "I say that every single week. It is about the love and passion for the music an artist brings to our show. It is not there in something that is marketed and manipulated and financed.  It comes through the heart of those who are simply trying to communicate with their audience.
"Love is the greatest transaction in the arts and I wanted WoodSongs to prove it," he continued.
_
WoodSongs III Book & CD released
The latest in the series of 173-page books takes a look at the greatest transaction of the arts: love … and what this means for songwriters and artists in a music world turned upside down by changes over the last view years. It includes a 12-song sampler CD. Details, samples and excerpts at http://michaeljohnathon.com/woodsongsiii
_
WoodSongs GATHERING of SongFarmers, Berea KY Oct 12 and 13, 2018
"We need a front porch 'round the World …" Join our dreamers, musicians, poets, artists and singers from across the country as SongFarmers gather together at historic Berea, KY. Details at SongFarmers.org
Keep up-to-date on the show schedules at  WoodSongs.com, see also SongFarmers.org