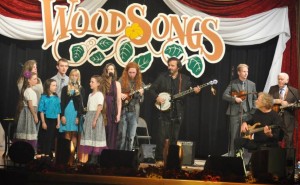 _
_
Folksinger Michael Johnathon is a songwriting dad … WoodSongs has a long and consistent history involving children, schools and families on our worldwide broadcast. Children even come on stage after the taping to experience the encore performances up-close-and personal. Your performing youngster will be featured on the radio/TV broadcast as taped at the Lyric Theatre in Lexington, KY. The broadcast airs on over 500 radio stations, plus radio in 173 countries on American Forces Radio Network (includes all military bases and US Naval ships) as well as 91M USA TV homes on public television.
WoodSongs is now featuring young musicians each week in a regular "WoodSongs Kids" segment on the international radio and TV broadcast of the WOODSONGS OLD-TIME RADIO HOUR.
HOW TO APPLY: A parent or guardian of any young musicians 6-16 years old, of any acoustic (no prerecorded tracks) style, can submit a simple 2-minute video clip (we like YouTube) to appear on the show. Once invited, they will perform ONE song about 2 1/2 minutes long. Vocal and instrument preferred, mom or dad can play the instrument if singing is the featured skill. This is a "broadcast spotlight" to encourage young people to be involved in music, the arts and especial folk/bluegrass music. This is NOT a talent contest, no one is getting judged, nobody comes in second and no one will win anything. We present one kid performance per broadcast and they will share the stage with the other two guests on the broadcast.
READ A STORY about WoodSongs Kid 10 year old Mikaya Taylor from her hometown newspaper after her WoodSongs broadcast appearance, HERE
_
PICTURED is 11 year old Fiddlin' John Maupin and Michael Johnathon onstage after a WoodSongs broadcast
"I'm a banjo playing dad," says Michael. "I can see how music is the center of the world for many kids. The chance to express this in a safe environment is hard to find. A chance to simply play because you're good without the spirit of some kind of competition almost impossible for kids. Kids live in a computer corrected, over marketed multi-media world. This is a chance for them to experience music without the risk of "losing." Plus music involves so many academic lessons: it's math, science, history, literature and more all wrapped up into little 3 or four minute songs. WoodSongs is not a talent contest, it is a global front porch and I'm inviting young kids from across the country to come and, you know … set a spell."
SUBMISSIONS:
Music styles can range from folk, blues, bluegrass, country, Celtic, even poetry. We are looking for passion and unique art with preference being given to original songs or traditional music. Parents please email us with the link to a video clip (YouTube preferred), parents contact info and three possible Mondays you could be at the Lyric Theatre in Lexington, KY for the production and send to radio@woodsongs.com
Please put WOODSONGS KIDS in the subject heading of your email.
FAMILY TICKETS:
The immediate family (mom, dad and kids) will all get free tickets to the show. Those coming in from ot of town will get one free hotel room (if available) or a reduced rate hotel. Friends and other family members can get tickets (usually only $10 adults/$5 children) by reserving seats 859-252-8888.
FAMILIES & FRIENDS – WATCH THE SHOW ONLINE:
Friends and family can watch the show live-as-it-happens online via Folk-Book.com. For $5.95 you can watch this and all other future WoodSongs broadcasts free of charge from now on. This subscription is good for the lifetime of the website. Your kids and others can then post clips, MP3's etc to the Folk-Book website and share their musical skills with others around the world.
QUESTIONS: