The DISTRIBUTION DATE to deliver instruments has been arranged for Saturday October 29 at the KNOTT COUNTY CENTRAL HIGH SCHOOL parking lot from 1-5PM (Thank you principle Bobby Pollard).
ANY RESIDENT of the flooded areas in Knott, Letcher, Perry, Breathitt, Johnson, Pike, etc can come and get FREE replacement guitars, banjos, fiddles, dulcimers, band instruments etc while supplies last.
WE RECOMMEND you fill out the google request form listed below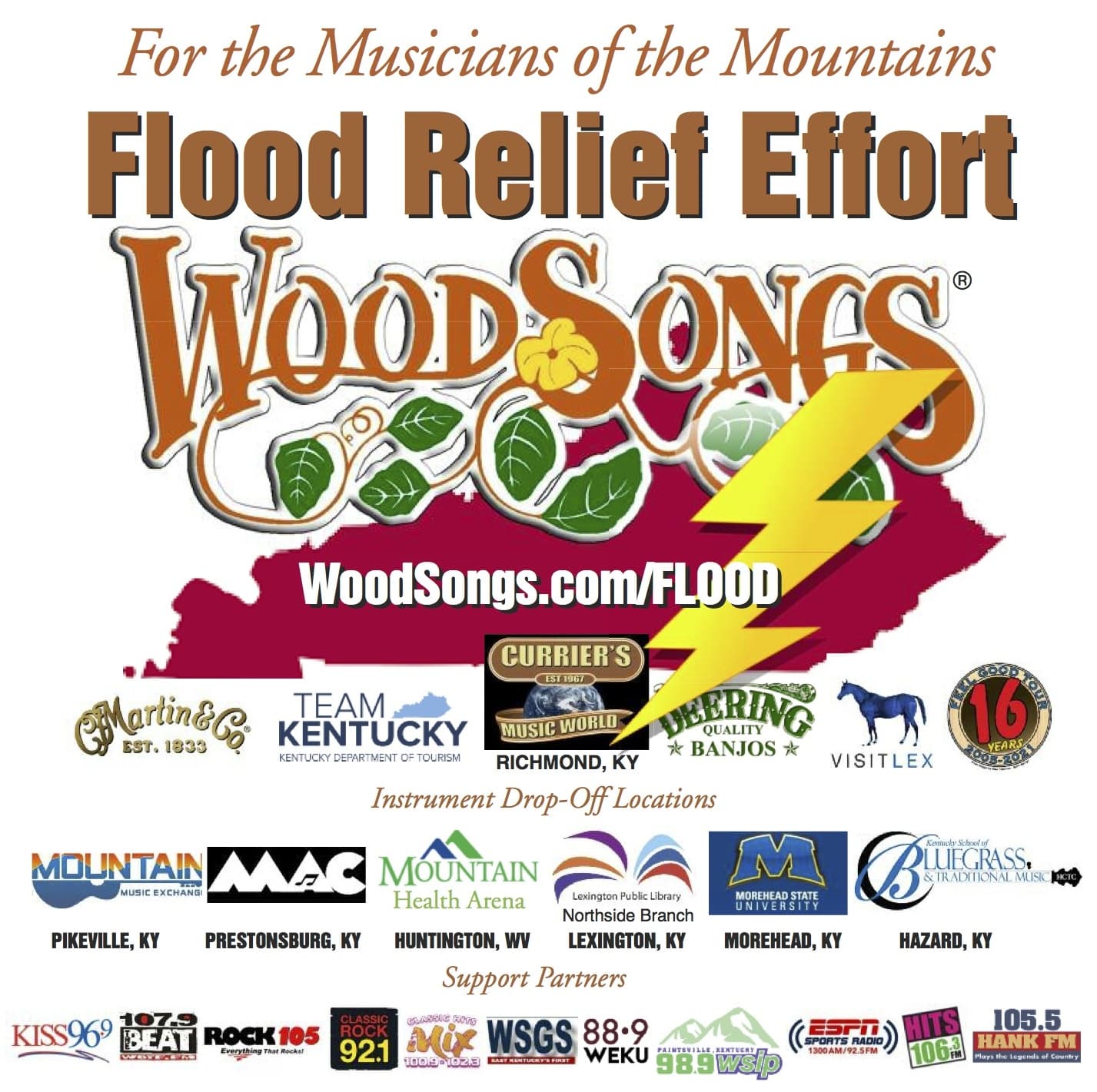 WHEN THE TIME IS RIGHT, WE WILL BE THERE
The WoodSongs community is collecting instruments for the musicians in the flooded regions of Appalachia
The families of eastern Kentucky succumbed to torrential rains that flooded entire communities. From Whitesburg to Hindman, Hazard to Prestonsburg the hollers were covered in a tsunami of rain that put homes, businesses, creative centers and lives under water. WoodSongs, along with our friends, fellow musicians, companies like Martin Guitars, Highbridge Spring Water are collecting instruments to restore the music of one of the most artistic and creative regions in America.
SEE THE WS TORNADO PROJECT CLICK HERE
WATCH A TV STORY "THE WS FLOOD PROJECT" FROM WKYT-CBS CLICK HERE
WATCH A NATIONAL TV NEWS STORY "THE WS FLOOD PROJECT" CLICK HERE
WATCH MOUNTAIN TOP TV NEWS "THE WS FLOOD PROJECT"

HEAR a sample RADIO PSA
_
WHY WE ARE DOING THIS:
In many ways, the people in Appalachia embody the spirit of America's Front Porch. The music and art from Appalachia is important to preserve and, when the time comes, we want to restore the instruments lost by the floods.
Keep the music of Appalachia alive, you can help:
We can't build bridges, lay foundations, repair roofs and plumbing … but we CAN bring the music of the FRONT PORCH back to the people that lost their instruments in the floods. Let's do this!
REQUEST AN INSTRUMENT
ALL INSTRUMENTS ARE BEING OFFERED FOR FREE while supplies last. If you lost your guitar, banjo or any other musical instrument in the floods let us know. PLEASE FILL OUT YOUR REQUEST on this form CLICK HERE
IF YOU ARE LOOKING TO REPLACE A PIANO OR PA SYSTEM please send your request as an email to wfpa@woodsongs.com and we will connect you to folks who have one to donate.
You can use this QR CODE to make your request, just take a photo with your cell phone and it will take your directly to the form to fill out:
Donate your instruments!
CURRIERS MUSIC WORLD attn Cathy Currier 292 S 2nd St, Richmond, KY 40475 in Richmond KY will again be the PRIME COLLECTION CENTER for all music instruments donated. Here is where ALL INSTRUMENTS COLLECTED they will be polished, serviced, restored and prepared for distribution
WHAT WE NEED – BAND INSTRUMENTS OF ALL KINDS (trumpets, trombones, flutes, sax, clainets, drums and more) guitars, banjos, fiddles, mandolins, art supplies, keyboards, upright basses, electric instruments, amps, etc. PLEASE ONLY DONATE INSTRUMENTS IN GOOD, PLAYABLE CONDITION. If you have a large item like a piano, sound system or drum kit, email a description and photo to WFPA@WoodSongs.com and we will help connect you … You can also mail, Drop off or ship directly to Curriers Music World 292 South 2nd St, Richmond, KY 40475
DROP OFF LOCATIONS, you can bring your donated instruments to these places and we will come get them:
KENTUCKY MUSIC HALL OF FAME & Museum (Renfro Valley, KY) Exit 62 of I-75. Open 7 days a week. 2590 Richmond St Mount Vernon, KY 40456 kentuckycountrymusic@gmail.com
MOUNTAIN HEALTH ARENA 1 Civic, Center Plaza, Huntington WVa 304-696-5990
KENTUCKY CENTER FOR TRADITIONAL MUSIC (Morehead State University) 186 East First Street Morehead, KY 40351 Phone: 606-783-9001
KENTUCKY SCHOOL OF BLUEGRASS & TRADITIONAL MUSIC Hazard Community College attn DEAN OSBORNE One Community College Drive, Hazard, KY 41701 Phone (606) 4387-3630
MOUNTAIN MUSIC EXCHANGE attn KEVIN HARMON 5171 N Mayo Trail, Pikeville, KY 41501 (606) 437-5551
MOUNTAIN ARTS CENTER attn JOE CAMPBELL 50 Hal Rogers Dr, Prestonsburg, KY 41653 (606) 886-2623
NEW LEXINGTON LOCATION – LEXINGTON PUBLIC LIBRARY Northside Branch 1733 Russell Cave Road, Lexington, KY 40505 (859) 231-5500​
TO STATE IT CLEARLY: this project is totally volunteer driven.
WHAT WE NEED
Contributions to rent a box truck about 24′ long, funding for fuel, instrument conditioning, travel and volunteers expenses. We won't need much but every little bit helps. Make a TAX DEDUCTIBLE contribution via PayPal to WFPA@woodsongs.com send a check to WoodSongs PO Box 200, Lexington KY 40588 …or to use your credit card CLICK on the DONATE button below
To support Gov. Beshear's general relief fund to help the flooded communities CLICK HERE
"There is nothing more truly artistic than to love people." Vincent Van Gogh